French Bloom Raises a Toast with 0.0% Alcohol for Women's Day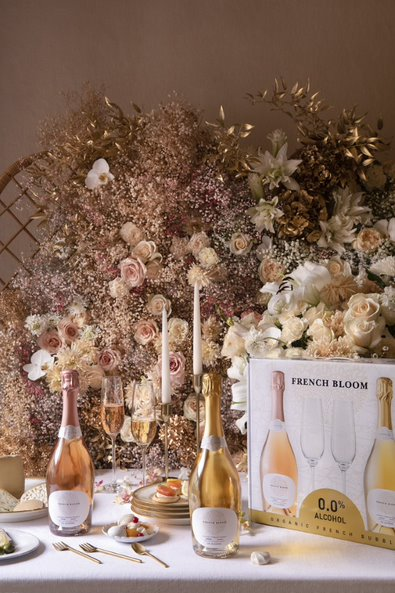 The brainchild of long-time friends Maggie Frerejean-Taittinger and Constance Jablonski, French Bloom was born out of an idea that celebrations shouldn't come with the possibility of exclusion but should instead elevate social gatherings and make everyone feel included. Embarking on a business endeavour in a predominantly male-led industry, Maggie and Constance launched French Bloom at the end of 2021, and has quickly managed to create a new category and position itself as a market leader in the super premium 0.0% alcohol sparkling wine category.
Made from a unique blend of organic wines from France, French Bloom sparkling wines have gone through a manual dealcoholizing process to keep the integrity of flavours while remaining completely organic, resulting in a 0.0% alcohol content drink. Other natural and organic ingredients, such as lemon juice, are added to ensure its aromatic balance and length, which results in an elegant and tasteful alcohol-free French sparkling, with an elevated flavour-architecture.
Maggie and Constance first met in New York and became close friends as a result of their similar wellness journeys. Constance, a top model living a fast-paced lifestyle was struggling to balance the industry's demand for physical perfection with a social life that provided her with the relationships and connections she needed to maintain her mental health. Maggie, a gastronomy lover, was pregnant and discovered that there were few pregnancy-friendly alternatives to the sparkling wine she usually paired with exquisite dishes when dining with friends and family. Both women felt that there didn't exist a product that met their expectations for elevated and sophisticated alcohol-free wines.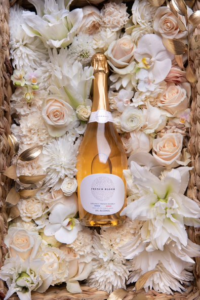 Both trailblazers in their own career with multiple hats to wear, the duo created a sophisticated and elevated sparkling flavour profile that could feel special and ceremonial and could be enjoyed with food. Created and bottled in the Southwest of France, French Bloom sparkling wines are not only organic but also vegan and halal certified, with no-added sugar and without sulphites or preservatives, making them the ideal drink of choice for those who prefer to be a part of the celebration without sacrificing their well-being. With an aim to revolutionise the culture of gatherings and show that celebration can be both inviting and limitless.
French Bloom Blanc Sparkling Wine, 75cl | AED 180
French Bloom Rosé Sparkling Wine, 75cl | AED 190