Irthi launches pop-up space for UAE designers in London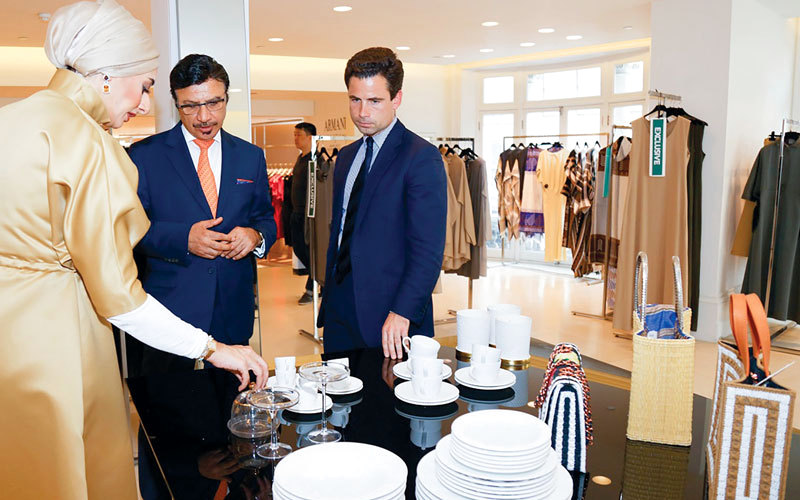 Sharjah: Irthi Contemporary Crafts Council launched its pop-up retail space in collaboration with luxury department store Fenwick of Bond Street in London on Tuesday.
The partnership reinforces Irthi's status as a leading platform for designers in the United Arab Emirates to reach a key global audience.
Shaikha Jawaher Bint Mohammad Al Qasimi, wife of His Highness Dr Shaikh Sultan Bin Mohammad Al Qasimi, Supreme Council Member and Ruler of Sharjah, emphasised that some of the most creative and talented artists and designers in the UAE are establishing a name for themselves on a global scale and showcasing their concepts and styles through their crafts, arts and designs.
"Investment in the potential of young talent in Sharjah and the UAE is an absolute priority for the emirate's cultural vision, laid out by the Ruler of Sharjah. It is essential that every support is given and every opportunity is taken in order for them to make their mark on a world stage," said Shaikha Jawaher, who is also the Chairperson of NAMA Women Advancement Establishment, and Royal Patron of Irthi Contemporary Crafts Council.
The launch was attended by Sulaiman Al Mazroui, UAE Ambassador to the UK; Reem Bin Karam, director of NAMA Women Advancement Establishment; and Leo Fenwick, Fenwick of Bond Street.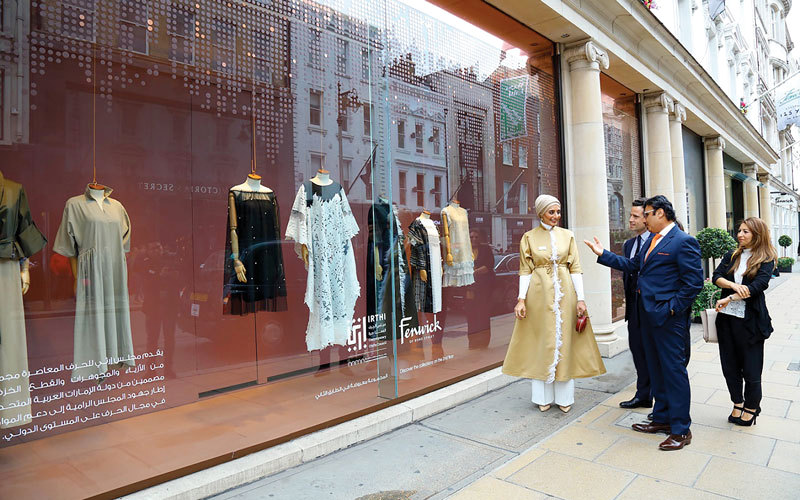 Featuring the work of 10 UAE-based designers in one of London's luxury department stores, the collaboration provides the designers with a substantial space to create a long term, lasting impression with potential customers, and communicate their brands to an ideal target audience.
The designers have created impressive labels inspired by the rich cultural heritage and environment of the UAE and the Middle East, showcasing fashion designs, jewellery, and porcelain collections for the two-month duration of the pop-up store.
"Since its inception, Irthi Contemporary Crafts Council has worked to provide a creative platform for talented UAE designers in traditional and contemporary crafts, and promote their brands both regionally and internationally," said Bin Karam.
Participating designers include: 'Madiyah Al Sharqi', womenswear label designed by Shaikha Madiyah Bint Hamad Al Sharqi; 'Designed by Hind', fine porcelain collections influenced by Emirati traditional crafts created by Shikha Hind Majid Al Qasimi; Amal Haliq, jewellery designer who adds her own take on fairytales and heritage crafts; Aliah Bin Omair, jewellery artist inspired by the heritage and raw materials of the Middle East; and 'Align', contemporary womenswear brand created by designers Sara Mahmoud and Asma Mustafa.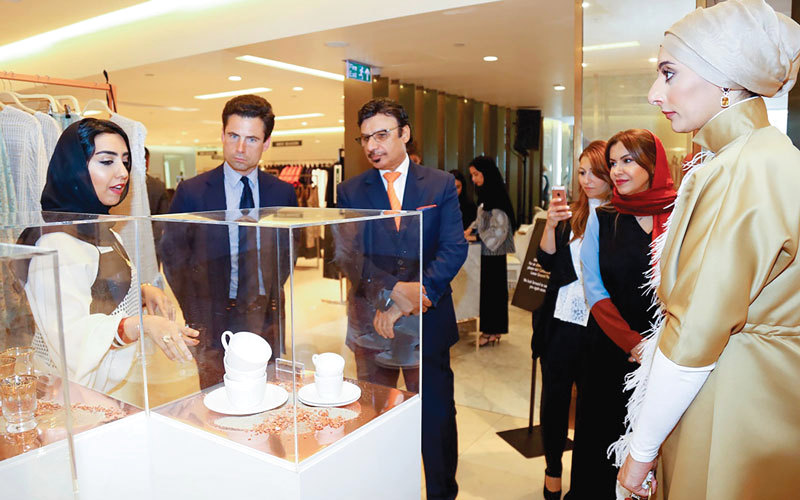 Designers also include: 'IAMMAI', womenswear label established by Mai Al Budoor, and inspired by palm trees found in the UAE; 'Twisted Roots', travel wear brand, founded by Latifa Al Gurg; 'Neon Edge', womenswear label created by Mona Fares; Faissal El-Malak, womenswear designer that incorporates fabrics skilfully handwoven by artisans from the MENA region; and Zayan the Label, womenswear label by Zayan Ghandour.
"The Irthi Contemporary Crafts Council's pop-up store clearly reveals the depth of the cultural and economic ties between the United Arab Emirates and the United Kingdom," said Ambassador Al Mazroui.
Five of the ten designers taking part in this retail space are from the Azyame Fashion Entrepreneurs Programme, one of the council's flagship projects. The programme offers one-to-one support for the next generation of UAE designers through a mix of workshops and business mentoring opportunities for one year, delivered in partnership with the London College of Fashion.