Arab Investment Forum held in Istanbul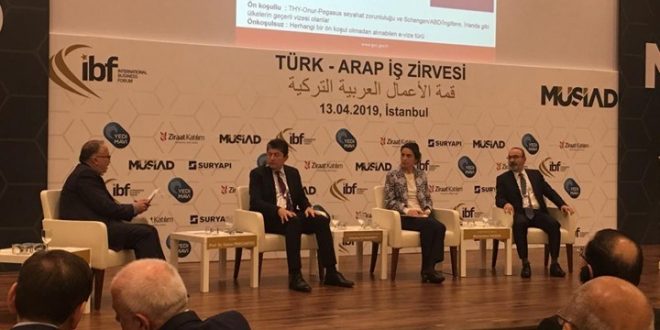 Turkey's capital Istanbul has witnessed the launch of the Arab Investment Forum which included 500 Arab participants, investors and representatives of Arabian commerce chambers, half of whom came from outside Turkey.
Bilateral business meetings were conducted between visitors, exhibitors and companies expected to lead dozens of successful trade deals, partnerships and cooperation agreements. At the corners of the exhibition halls, products and services exhibitions were lined along with presentations of Arab economic experiences.
The forum organizers aimed at creating a cooperative environment that encourages partnerships between Arab and Turkish markets as well as between fellow Arab business institutions.
The forum is views as an opportunity that will allow for the growth of the private sector in Arab countries by utilising the advantages of Turkish investment, and encouraging Turkish exportation to these countries.
Shahabuddin al-Azzazi, Head of Forum and Arab economic expert said that holding this forum was aimed at organizing the Arab economic efforts in Turkey so that it can keep up with the pace of the Arab community growth in the country, which has reached up to more than 5 million people. He also pointed out that the Turkish approach regarding economic openness and the advantages of naturalization and family stability that comes with it has attracted a lot of Arab capital into the country.
Turkey acts as a safe investment choice for Arab businessmen due to the governmental facilitation, reductions and exemptions along with the easiness of money transfers, official transactions. Turkey also allows for an easy system in regards to opening companies, shipping and mobility within Turkey.
Turkish businessmen, on the other hand, emphasize the importance of integrating the Arab businesses into an institutional framework to enable it to deal with Turkish laws and procedures, especially with respect to establishing companies, transactions and taxes.
The drop in the Turkish Lira's exchange rate and the fluctuations in its value have negatively reflected on the confidence Arab investors had in Turkey. Nevertheless, lately the Turkish market has witnessed an Arab investors' comeback following the stability of Turkish Lira.
Meanwhile, Turkish economist – Yasar Salhuk Ardas – pointed out that Arab investors benefit from the Lira's drop versus the USD, noting that Turkey is an ideal investment choice for them because since it is safe, stable and close to the Arab culture.