Visual artist, Lulwah Al-Hamoud: My work is a reflection of my beliefs and my connection with The One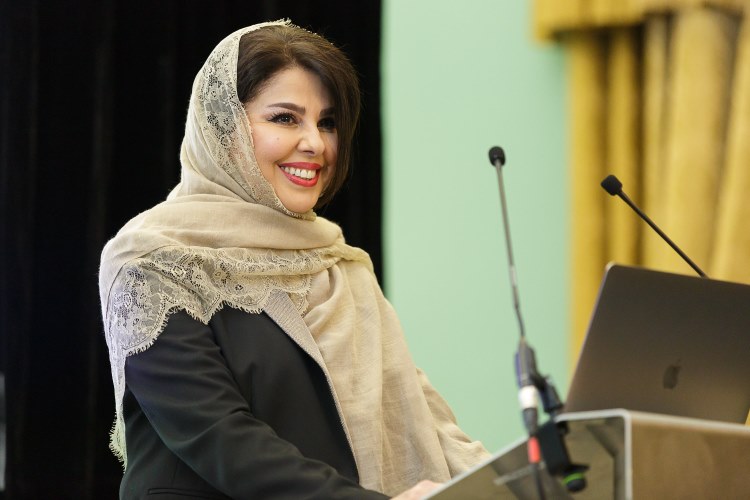 Edited by: Savanah Albadry
Interview by: Halimah Nizar Sabta
Saudi visual artist, Lulwah AI-Hamoud, has coordinated numerous exhibitions around the world and had her work sold in Sotheby's and Bonhams auction houses in the British capital. World-renowned museums such as Jeju of Korea, the Five Continents of Germany and the LACMA of Los Angeles has owned her work.
Al-Hamoud is the first Saudi woman to get her Master's degree; specializing in Islamic Arts, from the Central Saint Martins of the University of the Arts in London
Arabisk Magazine was lucky enough to sit with her for the following interview:
You studied sociology at King Saud University in Riyadh, what was the turning point to art and design?
I never regretted studying sociology even through it wasn't my field of choice. Nevertheless, it gave me depth and a hunger for research generally. However, my passion for the creative field continued to haunt me so I decided to get another degree in the art and design stream.
London gave me the freedom in choosing what I wanted to study, and the ability to be creative in my field. Any artist can find him/herself in another field for any given circumstance but they will only be content if they are honest with themselves. I felt there was something missing, and I wanted to be skilled, not just through talent, but through education as well.
How would you describe your experience as the first Saudi woman to get a Masters Degree from Central Saint Martins University of Arts?
When I graduated from the American faculty with honours, they recommended continuing my education in one of two British universities. Upon researching about both the universities, I found that these were two of the most prestigious universities worldwide. I applied to both the universities and was accepted into Central Saint Martins. However, I wasn't particularly keen on getting a Masters degree as much as I was eager to explore more on my culture and identity especially in regards to Islamic Arts starting with Arabic Calligraphy.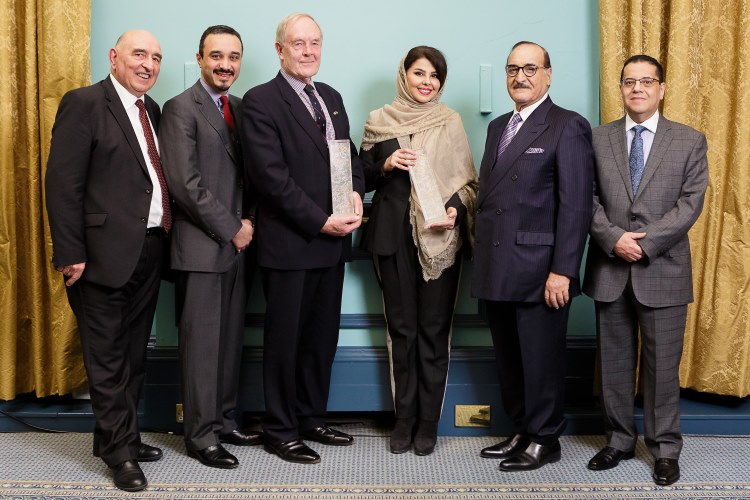 Back then, getting accepted into the university was quite challenging and there were no other Arabs with me in my student group to the extent that my fellow students were telling me that l was the first Saudi women they met in their entire lives.
The experience was a challenge for me, being a mother of two primary school children. My request for transferring to a part-timer was declined as there were no part-time educators; so I had to see through with the one and half-year challenge to submit both my written and practical projects together.
Despite it being a restless and sleepless journey, it has been an extraordinary one. It gave my work the depth I needed although my research topic was tough due to the lack of references.
What's the philosophy behind you work?
My work is a reflection to my beliefs and my connection to my One God. It is a representation of my place in this universe and how this universe is connected. We all have life experiences that can be either happy or sad ones; these experiences can be used as material for artistic expression. Nevertheless, I chose to go for something that is finer; my belief in a Creator and tracing His superiority through His creation and the miracle they hold.
There is plenty of room for meditation in our world that goes unnoticed because we are too busy with our daily lives. My work is an invitation to take a break and reflect on the what surrounds you.
Your work shows your interest in the Arabic language, what makes it a highlight in your work and how do you plan on developing and expressing it in your pieces?
The Arabic language is a never ending treasure and an endless sea of bounties. lts visual form can inspire the artist to produce work of art. For instance, Arabic calligraphy is a direct interpretation of the beauty of language, however the calligraphists become artists when they change the geometrical structure of the letters and words In order to create a art-piece.
The artist, however, doesn't stop at a certain point. The process of research and experimentation continues to create something new. Through my research in the development of the Arabic writing throughout different time eras and places, I was inspired to develop my own form of language that integrated the geometrical structure with the writing while benefiting from other sciences such as Mathematics.
How can ones' identity and environment contribute to their artistic self-expression?
True art is one that reflects the artists reality. Otherwise it becomes shallow and unoriginal. It is possible that being an expat away from home is what ignites in us the desire and longing to further understand our realities. Sadly, there was a time where our cultures were neglected, we didn't try to delve into it or comprehend it. This could be the reason why I tried to understand that distant yet near heritage.
The modern Arab and lslamic world, unfortunately, has disregarded this extensive scientific and cultural heritage that was left behind by Muslims and depended on importing sciences; almost entirely; from overseas. This caused a dilemma in identity. Nevertheless, I am not claiming that the artist should regress backwards to the past, however artists should use the past as their inspiration in order to present something new.
How do you think we can encourage the society to pay more attention to the arts of Arabic calligraphy along with other types of arts?
There are several ways, the most important being utilizing all modern means to highlight this art. For example, there are lnstagram accounts specialized in posting about all the skills and creativity that goes into Arabic calligraphy. This art needs to reach people without waiting for people to start searching for it.
This art needs to be required by all fields of design and art, because it combines beauty, geometry and symmetry. The goal here is not to create a community of calligraphists rather its for this art to inspire harmony and beauty in all other creative and artistic fields.
As an Arab artist representing Arab art internationally, what is the message you are  trying to send ?
My message is embodied in my art, and my art carries several noble meanings including It being an invitation to reflect within ourselves and on our surroundings.
When I appear internationally, I represent a proud Saudi Arabian Muslim women who is confident about the content she presents, taking pride in her country, values and culture.
What are the things that you would want the Kingdom of Saudi Arabia to provide for artists currently?
Without a doubt, we are heading in the correct direction and towards all what we wish for as Saudi artists. I hope that art can remain a noble message that is supported by governmental institutions.
We need to build an artistic and cultural infrastructure as we are one of the rare countries and probably the only one known for its rich artistic production without an institutional basis, as is customary.
We need to invest in human energy in everything related to art and culture, including critical studies, art history, archiving. administration, etc. This in turn will be a support for art and artists.
What are the difficulties women In general and Saudi women especially have to face when present in International forums?
The main challenge is Western media and their Inaccurate portray of women; so, regardless of the success gained by Saudi women, negative questions continue to be asked and highlighted whereas all the positives are deliberately forgotten.
What would be the most beautiful moment, In your opinion, when working on an art-piece?
Reaching the point of self-contentment after finishing and reflecting on the created piece. The moment when the effort turns into joy. A lot of times, I would add unplanned changes to the piece while working on it, Upon finishing, I feel a sense of joy for reaching this idea. I usually don't stick to a plan when I am creating a piece and often I would add big changes to my work which makes me feel really happy.
What are you plans in the upcoming period? What are the dreams you are waiting to achieve?
I am looking for all that is fresh and would awe me as an artist and help me continue to leave behind a legacy that Is useful to those who come after me; something that can help introduce the grace of our culture to other cultures around the world.
I also now own an individual art institute. I hope that it would reach its goals with the support of true artists and creative individuals where it can give them the opportunity to share their art with the world.
What is your message to women in general; and to female artist specifically?
Women and mothers are an icon of sacrifice and striving to what is better and in my opinion, this requires strength. I believe in a woman's strength and perseverance to reach what she wants no matter the challenges.
Women are not weak. In fact, they are strong; being as they are able to withstand difficulties and are able to reach their goals. My message to women is that strength isn't equivalent to sacrificing our femininity and beauty as Arab ladies. I would also like to say to female artists: You are your nations' fortunes, invest in yourselves and in your art and don't give up or lose hope because the best is yet to come!