Celebrating the UAE National Day… Tele-meetings gather scholarships students in Britain
UAE Scholarships students in Britain expressed their pride in celebrating the 49th National Day of the United Arab Emirates, stressing that it is in their hearts, despite their distance from the homeland.
They emphasized that the celebration of the establishment anniversary of the Union on the 2nd of December of each year is a loyalty renewal to homeland and to the base builders, pointing out that the commemoration of this year is different due to the precautionary measures imposed by the Corona epidemic, which prompted them to celebrate through remote meetings that gathered students from different areas in Britain.
Online meeting
"Celebrating the 49th UAE National Day will be remote under these current circumstances, and all scholarships students with Emirati societies in Britain will be gathered in online program" According to Ahmed Al Sharif, Head of Emirates Association for Nottingham Region students, studies mechanical engineering.
Ahmed pointed out that this occasion is an honor day celebrating the UAE founding anniversary, and its revival reflects loyalty duty to all nation people.
Place of residence decorating
Vice-president of Emirates Association in Liverpool, Wadha Adel Al Hammadi, a law student, said that on December 2 of each year, they renewed loyalty and love for the beloved country, UAE, she is trying to represent her country in a better way in order to return the favor by being unique UAE expatriate student.
Wadha added, "To celebrate, despite the current circumstances and precautionary measures, me and my friends will decorate our residence with flags, and cook the most delicious popular food and share them with the neighbors."
Longing and nostalgia
Hamad Al-Mutawa, Emirates Association in Liverpool president and founder, a student with a bachelor's degree in architecture at Liverpool University, said that the Emirates students renew feelings of loyalty and belonging to their beloved country, especially in estrangement, we are keen to celebrate these national days that calm down longing to our homeland, despite the distances and the time difference, we celebrate a day that represents our glory.
Hamad pointed out that National Day is a responsibility reminder to Emiratis and expatriates, being a good example of UAE wise leadership and its best representation. "We used to celebrate every year as expatriate students in all British cities with the Embassy of the United Arab Emirates in London, but due to these current circumstances, this year's celebration will be different, so we have organized a virtual national day in cooperation with the International Youth Council in the United Kingdom, UAE embassy in London, the Cultural Attaché, and Emirati associations in various British cities.
Alienation tax
Ali Al Junaibi, media coordinator at Emirates Association in Liverpool, an aviation engineering student at Liverpool University, said that the day of December 2 coincides with our university studies, so we cannot return to the homeland, "I have always wished to return, we long for our celebrations for the National Day in our Beloved Emirates, but it is the tax of alienation and scholarship. We are here for our country.
"Our celebration day this year differs regarding to the rules of Coronavirus precautionary measures. Our celebration will be remotely, and I will participate as a presenter, participating with number of colleagues from different areas in United Kingdom." Ali concluded his speech by saying: "Words may not translate feelings towards our beloved country, so I will pray for the safety of our country, and to the safety of the Muslim countries."
Realizing ambitions
Hassan Al-Nuaimi, media coordinator at Emirates Association in Liverpool, architectural student, confirmed that "the love of this great nation is renewed on this day and every day, because the love of UAE country is firmly rooted in our minds and hearts, and this love must result good and useful behavior."
Hassan wishes to be at the embrace of his homeland in this happy day with his colleagues, but they are seeking to fulfill their ambitions, and to be as the late father Sheikh Zayed bin Sultan Al Nahyan "may God rest his soul" wanted them.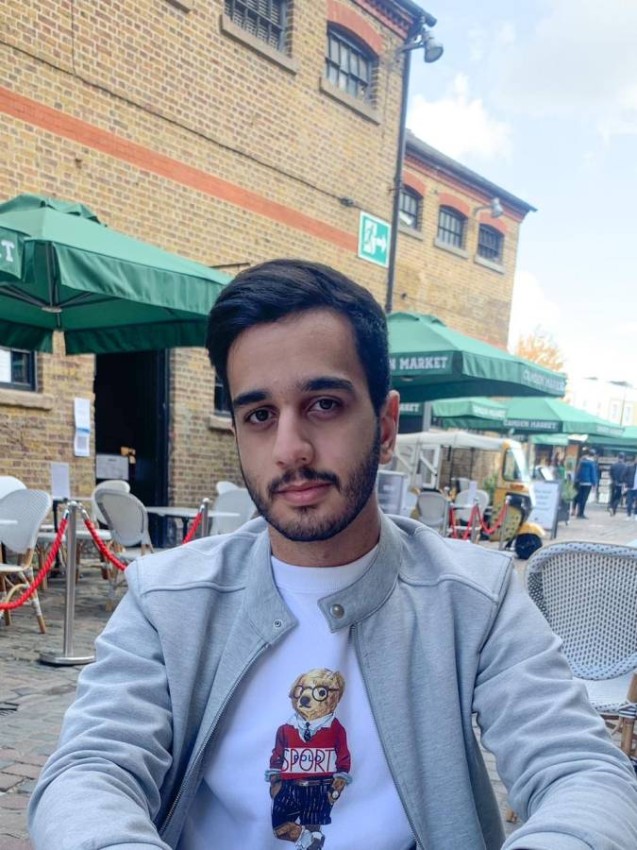 National wedding
Hussein Hammoud Al-Hashemi, a doctoral student in petroleum geology engineering at Leeds University affirmed that the National Day is a wedding for all Emiratis, inside and outside the country, adding "We are waiting impatiently for this day, to express our pride to beloved country and joy of this great day, also, to remember the first founders, and renew our loyalty to homeland and to the wise leadership regarding the perseverance, diligence and excellence in educational achievement to serve our dear country in various fields and to be distinguished and the number one in the world.
Hopes
Hamda Al-Hammadi, a member of World Council of Emirates Youth in the United Kingdom, Vice President of Emirates Association in Nottingham, a politics and economics student, stated that celebrating the National Day increases our pride in being ambassadors of the UAE nation abroad, so we renew our loyalty to increase our generous homeland, despite the celebration this year is different due to preventing Corona conditions. UAE remains in our hearts, we carry hopes and aspirations to raise high the name and position of our country.
Hamda indicated her keenness to celebrate this precious occasion "by decorating residence, and exchange congratulations by communicating remotely with all expatriate country students," saluting the leadership and people of Emirates.