Treat the Most Special Woman in Your Life to an Unforgettable Experience at the Luxurious Palazzo Versace this Mother's Day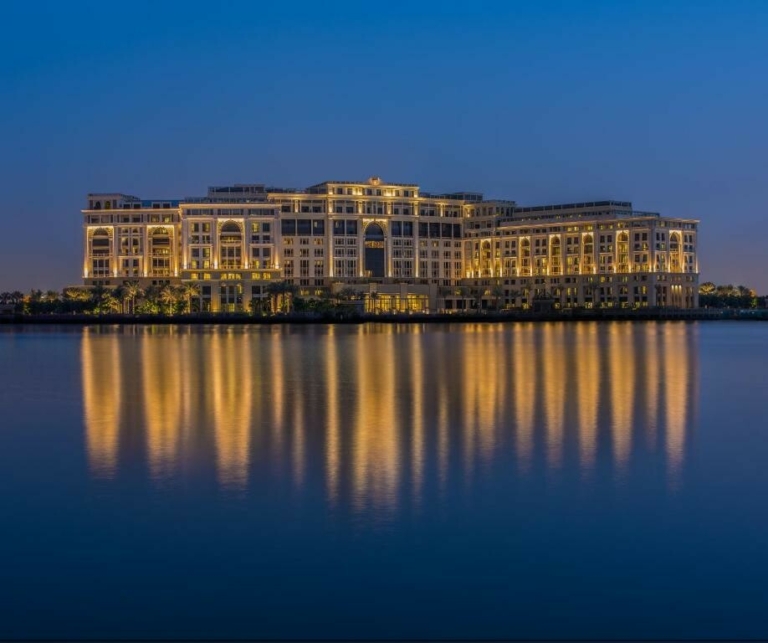 This Mother's Day, let Palazzo Versace Dubai take care of the planning for you, and choose from a range of special offers in honour of the most special lady in your life. Located in the idyllic Dubai Creek, the extravagant hotel has curated a range of culinary, spa and pool offers, so you can celebrate Mother's Day in style.
Mums can enjoy a variety of delectable dishes while dining in one of Palazzo Versace's award-winning restaurants, get pampered with a relaxing treatment at The SPA, or spend the day at the hotel's pool while soaking up the sun.
Palazzo Versace Dubai's award-winning restaurants have curated a range of special dining offers to celebrate the occasion, so you can treat the most important woman in your life to a delicious meal, including a lavish breakfast at Giardino; three-course set menu at Enigma or Vanitas, or an elevated High Tea experience at Mosaico.
If you're looking for a more extensive way to mark the occasion, you can take your mum out for a memorable pool day at La Piscina, where from 1-4pm ladies can enjoy 3 complementary drinks upon ordering a dish and spend the afternoon lounging in the picturesque setting of the pool.
For the mums that need some well-deserved pampering, The SPA is offering the incredible Blooming Rose Ritual to celebrate Mother's Day, so you can treat your mum to an ultra-indulgent treatment at Palazzo Versace Dubai's award-winning spa. Specially curated by Aromatherapy Associates specialists, the Blooming Rose Ritual guarantees to soothe, rejuvenate, and lift the spirits. This is a truly luxurious and exquisite gift, designed to coax mind and body into complete harmony.
The two-hour ritual starts with a full body exfoliation to remove dead skin cells and improve skin texture, followed by an envelopment of a deeply nourishing pink clay body mask to remove skin impurities. A relaxing massage will then melt away all stress and tension, whilst a hydrating face mask and a rose quartz stone facial massage will help balance emotions and encourage total tranquillity.
Whichever way you choose to honour mum on her special day, Palazzo Versace Dubai has you covered.
F&B Mother's Day Offers Overview:
Breakfast and Ocean Feast at Giardino
Ladies enjoy 50% off on breakfast, featuring a lavish selection of international dishes from Giardino's live-cooking stations. Ladies enjoy 50% off on dinner buffet on food only package.
Lunch or Dinner at Enigma
Ladies enjoy 3-course set menu for lunch or dinner at Enigma, Palazzo Versace Dubai's renowned Persian restaurant, inclusive of 3 glasses of grape or soft beverage for AED 299 per person.
Lunch or Dinner at Vanitas
Ladies enjoy 3-course set menu for lunch or dinner at Vanitas, the hotel's award-winning Italian restaurant, inclusive of 3 glasses of grape or soft beverage for AED 299 per person.
High Tea at Mosaico
Ladies enjoy 1 complimentary mocktail when they order a High Tea at Mosaico.
Pool Day at La Piscina
Ladies enjoy 3 complimentary drinks from La Piscina's selection upon ordering a dish, from 1pm to 4pm.
Drinks at La Vita
Ladies enjoy 3 complimentary drinks from La Vita's selection upon ordering a dish from 7pm to 11pm.
For reservations, please email dining@palazzoversace.ae or call +97145568805
The SPA Mother's Day Offer Overview:
Name: Blooming Rose Ritual
Duration: 2 hours
Price: AED 1,200
For reservations at The SPA: Call 04 556 8750 or e-mail spa@palazzoversace.ae
ABOUT PALAZZO VERSACE DUBAI 
Reminiscent of a 16th century Italian Palace, Palazzo Versace Dubai is a Neoclassical masterpiece with subtle traces of Arabian architecture. Featuring a striking entrance, high ceilings, landscaped gardens, and a range of well-crafted Italian furnishings, the hotel is truly symbolic of the Versace lifestyle.
Set in the heart of the Jaddaf Waterfront, less than 15 minutes away from Dubai International Airport and eight minutes away from Burj Khalifa and Downtown Dubai, Palazzo Versace Dubai is conveniently located along the shores of the historic Dubai Creek.
Every single piece of furniture and fabric that adorns the hotel's 215 hotel rooms and suites, and 169 residences, is designed and tailor-made by Versace exclusively for the Palazzo Versace Hotel in Dubai. Each of the hotel's 8 restaurants and bars is designed to have an al fresco terrace to reflect the heritage of Palazzos, where the internal court was the informal space to meet, dine and enjoy the weather. The three outdoor pools are decorated with mosaic tiles and surrounded by palm trees and flowers. The beautifully landscaped gardens and unobstructed views of the Dubai Creek and skyline, make this luxury hotel an ideal venue for weddings and social events in Dubai.