Saudi Airlines decides to increase seat capacity and flights between the UK and London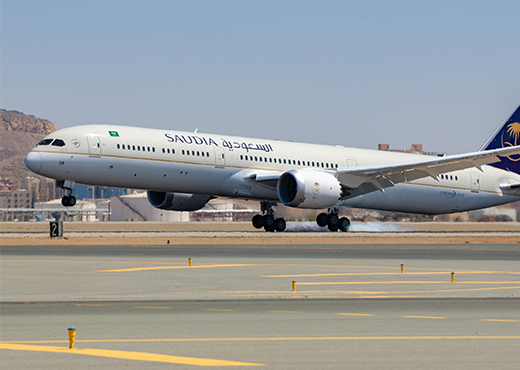 Saudi Airlines added (4) weekly flights from Riyadh and Jeddah to the UK capital London, bringing the total to (14) weekly flights after the UK government eased precautionary travel requirements and procedures for citizens.
In a statement on Thursday, Saudi Airlines stated that the increase in the seating capacity and flights between the two countries came after the efforts of the Saudi government in the fight against the pandemic, which included many decisions that significantly contributed to limiting the spread of the new Coronavirus, and thus directly contributing to the gradual return of air traffic.
Saudi Airlines added that it took the initiative to upgrade the aircraft operating flights between the Kingdom and London from Boeing (B787) to Boeing (B777) to increase seat capacity based on the high rate of reservations in this vital sector.
The seating capacity from Riyadh has become more than 7.8 thousand seats. From Jeddah, more than 9 thousand seats for the current month of October, including more than 330 seats in first class and more than 1.6 thousand in business class, as well as more than 15 thousand seats in the coach class.
In addition, a daily flight will be added next December, bringing the number to 3 flights per day, with a total of 21 flights per week.
Saudi Airlines is keen to implement several preventive measures in order to ensure the safety of guests and employees, including the immunization of all cabin crew and continuous sterilization of aircraft, which contributed to the absence of any case recorded on flights.
Saudi Airlines launched a "Ja waqteha" campaign to promote flights to London and also contribute to attracting more guests in support of domestic tourism that is significant currently. By launching two red London-known buses with the national logo. The buses will run the most important tourist areas in Riyadh and Jeddah, where they will stop at Corniche in Jeddah and in Al-Sahia Street.