For an Unforgettable Holiday: Top-Rated Attractions & Luxury Resorts in Tunisia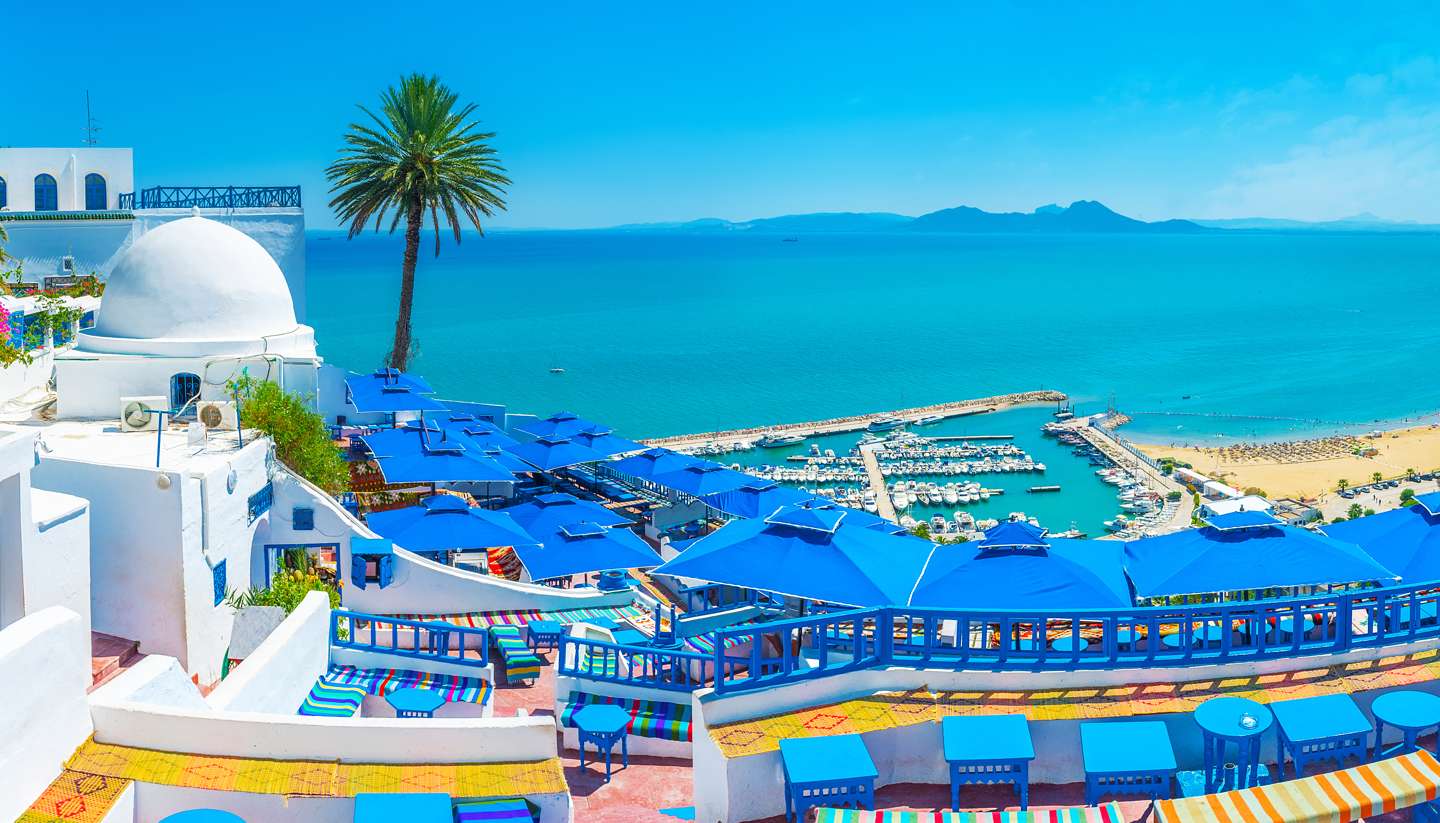 A fantastic array of traditions and customs and a rich historical heritage await you in an unmatched tourist experience in Tunisia. Moreover, the sun-kissed beaches of the Mediterranean coastline, lined by palms and lapped by gentle waves, are the cherry on top.
We are delighted to introduce you to these breathtaking attractions:
Tunis, the capital:
It is true that Tunis has been touched by the western culture, Roman in particular, which is one reason to visit. Yet, the city is abuzz with Arab and Islamic heritage. Some of the highlights of Tunis are the gates of the old town, aka old Tunis, like Bab Souika and Bab Jedid, and the other six doors created in the ancient walls of Tunis under the reign of Sultan Abu Zakariya Yahya I.
Djerba Island
Djerba is a small island off the eastern coast of Tunisia, also known as "the Island of Dreams" and North Africa's biggest Island. This palm-lined desert island is perhaps best described as a blend of a Greek fishing village, a Middle Eastern souq, and an Italian piazza. 
Sousse City:
The coastal architecture has a unique feel in the historic city. The picturesque city has a big mix of commercial activity and historical monuments dotted along its zigzag alleyways. The most important ports of call in Sousse are the Museum of Sousse, Ribat of Sousse and Port of Kantaoui.
Hammamet City
Hammamet is a well-known holiday resort in northern Tunisia. Apart from the beautiful, endlessly long sandy beach, there is a lot to discover in the medina (old town) of Hammamet and the surrounding area. When you feel like having some entertainment, go to Aquapark Flipper, a water park, or go to La Kasba to see a bouquet of magnificent Hammamet attractions.
Monastir City
Monastir is a city in eastern Tunisia. It lies at the tip of a small peninsula overlooking the Mediterranean Sea between the Gulf of Hammamet and the Bay of Al-Munastīr. The ruins of Ruspinum, a Phoenician and Roman settlement, are 3 miles (5 km) to the west of the city. It is one of the most important tourist destinations in Tunisia.
Carthage
Carthage is a commune in Tunis Governorate, Tunisia. It is named for and includes in its area the archaeological site of Carthage. Once Rome's major rival, Carthage was the city of the seafaring Phoenicians forever memorialized in the Punic Wars.
These UNESCO World-Heritage-listed remnants are hugely important historically, and any tourist interested in North Africa's ancient past shouldn't miss a visit here.
Sidi Bou Said
The undoubtedly worldwide famous, amazingly photogenic Sidi Bou Said is a clifftop village that seems to have fallen off an artist's canvas.
The whitewashed alleyways and turquoise doors echoing the scenic Mediterranean Sea backdrop are Tunisian village architecture at its finest.
If you are looking for Tunisia's best family and youth tourism resorts, we can offer you many suggestions to choose from your preferred destination for tourism in Tunisia: 
The Residence Tunis
This 5-star hotel in Gammarth overlooks the Gulf of Tunis. In addition, it has two swimming pools and a golf course. It is in high demand among guests who book resorts in Tunisia.
Four Seasons Hotel Tunisia
Another vintage resort in Gammarth, affiliated with the global chain "Four Seasons", has excellent reviews among its experienced guests.
Sentido Djerba Beach
The 4-star resort in Midoun offers an excellent experience at a reasonable price.
Africa Jade Thalasso
You can spend the greatest of times at the resort of Africa Jade Thalasso if you are looking for a premium tourist experience in Tunisia.
El Mouradi Gammarth
Alongside a sandy beach and facing the forest, the 5-star resort El Mouradi Gammarth is ideal for both business and leisure.
Golden Tulip Taj Sultan Resort
It is a beautiful resort in Hammamet, bringing the essence of modern Five-Star luxury to the stunning ancient tourist area.