Arabisk London's Exclusive Interview with Firas Al Msaddi; When Success Exceeds Boundaries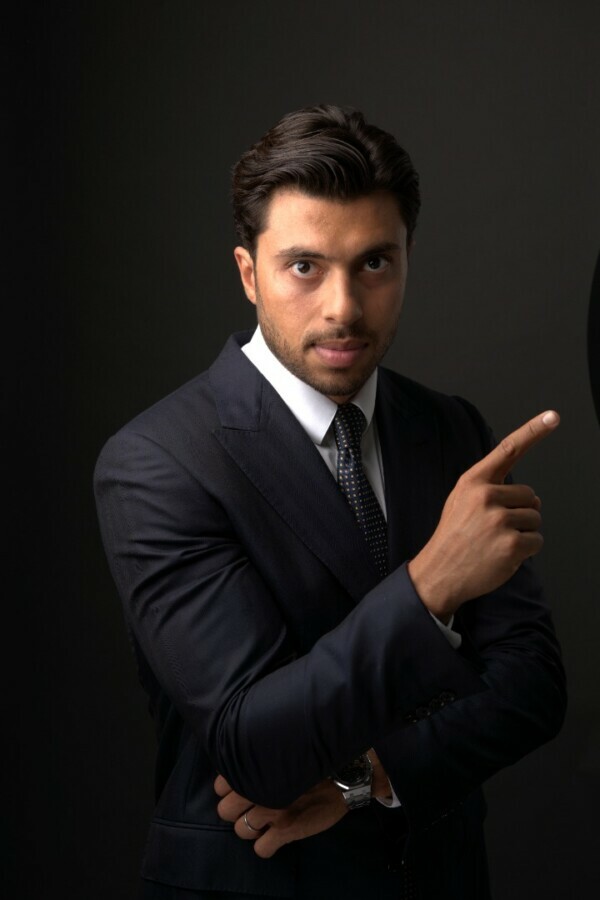 Sophistication, intelligence, determination and an endless will to succeed and make a distinctive mark, a unique combination that Firas Al Msaddi, CEO of fäm Real Estate in Dubai, brought together to become one of the most prominent real estate professionals in the United Arab Emirates.
He was determined to succeed, and he indeed did, as he set excellence to be his goal to prove that there are no limits for human ability. Al-Masdi established his own company and left a distinctive mark in one of the most important real estate markets in the world; United Arab Emirates.
Arabisk London had a great opportunity to interview Mr. Firas to tell us more about the secrets of the real estate market and how he became an inspiring figure for ambitious youth.
Interviewed by, Fatima Omrani
In your own words, who is Firas Al Msaddi?

Firas Al Msaddi, CEO of fäm Real Estate, and a father of four children. Professionally, my ambition is to maintain the first position that I achieved, and to be one of the largest real estate consultancies, real estate brokerage and property management companies in Dubai. In order to maintain this position, we seek to complete our expansion plan in the UAE, Saudi Arabia, London and China.
Your career is full of impressive achievements, how did you start your journey in real estate?
I founded the company in 2009 at the age of 25, and today it has more than 400 employees, and it is based in the Business Bay complex in Dubai. fäm Real Estate manages a real estate investment portfolio of more than AED 2 billion mainly in Dubai, in addition to AED 300 million internationally.
At the beginning of my career in this field I worked in a small company in Dubai in the middle of 2007 and soon I was appointed as a sales manager in another agency by the end of the year. Within two years I took over the office management in addition to completing my studies in business administration in Dubai.
 In the journey of achieving goals, difficulties are a must, what are the most prominent difficulties that you have faced? Also, in your opinion, what qualities should an entrepreneur develop at the beginning of his career?
Definitely, every job requires planning and determination, personally, the biggest challenge I faced was that when I entered the real estate market, I had many competitors with long experiences. The biggest challenge of all was that I had to get 10 years of experience in just one year, which required a lot work and effort and longer working hours done with greater quality.
We cannot expect success from the first time, we cannot fear of the stumbling and failure that may happen to us, it is necessary to be confident and have faith in God that when we put a certain goal in our minds, God will help us to achieve it.
As for the qualities that entrepreneurs must develop, in my opinion, it is extremely important to have a sense of responsibility and bear the burdens, because any great success is a group of small successes and the completion of tasks with a degree of dedication and mastery. So, when you have any task, even if it is small, you must complete it with the highest degree of dedication and complete it to the fullest, because by doing so you will achieve the greatest success and have the ability to overcome the most difficult and complex tasks.
In addition to, of course, setting a specific goal in mind and striving to achieve it. When setting a goal, there must be a plan to achieve this goal, meaning that there should be balance between the invested resources and the things that one can sacrifice, employ and dispense with in return for achieving the goal.
Today you are the CEO of fäm Real Estate Group in the United Arab Emirates, tell us more about fäm Real Estate Group?
The main reason behind establishing my own company, in the midst of the economic crisis in 2009, which was the most important cause of real estate loans, is that since I came to Dubai, I worked in more than one real estate company, however, I did not find in any of them any motivation. These companies did not provide enough experiences, work courses, training for their employees, even though these things, along with other matters can actually contribute to building and refining the employee's personality in order to grow and achieve progress in his/her job.
Then, I seriously thought why not have my own company and be on top of my game. Certainly, this decision was not just an emotional decision, but rather based on persistence and determination on my part and a tangible reality that I saw in Dubai. I was seeing towers and buildings and all these real estate and skyscrapers, and I understood that they are not going to disappear or stop at a certain point, and it's wrong to think about that and give up, I always looked on the bright side.
Also, the biggest motive that made me think about founding a company seriously is the Dubai government itself and its rational and smart policy that transformed Dubai from a desert into a vast civilized city with skyscrapers and towers unparalleled in construction and implementation. I was sure that this would not stop at 2009, and it would be just an obstacle that Dubai and the world would overcome it, and indeed I was right to think so.
 In 2012, fäm Real Estate won the title of the best-performing brokerage company in terms of sales to major developers, and in 2017 and 2018, it also won the title of Best Dealing Agency in Dubai. How did you prove your excellence in a market full of investment such as the UAE market?
In our company, every individual, with the various tasks each one performs, is a successful person in his/her work. Our employees' performance does not fail as each one makes sure to do his/her work no matter the circumstances, because they fully believe that this success will reflect on them and on the company.
I also believe in opportunities, work, preparation and planning, all factors that contribute to success, despite the different market events and its consequences, there is always an opportunity that comes to a person, and s/he must seize it to achieve success.
I remember the first real estate sale that I completed in the company, it was during the economic crisis and there were no purchases and sales in the market at that time.
I remember that I had met some people in the elevator who were asking for apartments to buy, while I was on a tour with a client who was looking for an apartment to rent. I accompanied them and introduced them to the housing units and their features, and explained to them in full everything they wanted to know. I realized it was an opportunity and I was ready for it, so it was the first sale I made and the first step to success.
You recently launched the book "The Art of Real Estate Investment from Starting to Exit". Can you tell us about this experience?
The idea of ​​writing the book was in my mind for a long time, but unfortunately, I was not able to implement it until recently due to the pressures of work. This book is one of the fruits of the long experience I gained during the 14 years since I entered the real estate world to this day.
In this book, I offer the most important advice and guidance to participants in the real estate market in Dubai and around the world, and help them make the right decisions in a sound and informed manner, especially that Dubai is a pioneer in these issues and an example to follow for the rest of the world's markets.
The book includes 192 pages and highlights the basics of the real estate market. It also explores what to do and what one should avoid in investing to avoid mistakes. In addition to the importance and benefits of investing, and it helps readers gain new perspectives on the opportunities that this sector must offer, Moreover, It includes an overview about Firas Al Msaddi's life and the beginning of his entry into the real estate world, how he became today the owner of the largest real estate companies in Dubai and an important investor in it after 15 years of experience. The book is divided into four different sections, from my inspiring sales journey to where I am today.
The book also deals with the real estate sector and builds the basics of investment to prove the importance of using interactive data in making the right decisions to negotiate. The real estate world today depends largely on interactive data and on statistics, for this reason the book addresses this aspect to simplify matters for investors, whether they are new to the market or have experience in real estate, as it facilitates this process more, enhances the chances of profit and reduces the challenges or losses that may face the investors.
The book is a comprehensive guide and encyclopedia that provides its readers with the tools and knowledge needed to make sound decisions when investing in real estate in Dubai.
Are you satisfied with where you are today? What are your main aspirations for the future?
Yes, of course, and I thank God the Almighty every single day for these blessings. Professionally, my ambition is to see myself enjoying an expansion in the real estate world in both the Arab region in Dubai and abroad, such as China and London, and to have a media presence in the Arab region and abroad.
Personally, I am overly happy and proud of my beautiful family, and their presence in my life is the greatest blessing and the most beautiful thing that has ever happened to me, so I will do my best to strike a balance between my work and my family.
What advice would you give to emerging investors in the real estate field?
The first thing to think about for anyone who intends to start a company is the greater value it will add to consumers compared to companies in the market that they consider to be competitive, because the success of any business depends largely on the value of the service it provides to the consumer.
Moreover, that all investments and businesses in general have risks and challenges and they are an adventure, but the least risky is to be an investor in something under your control, something you can control it and be certain of its success and continuity, and to be well-versed in its subject and all its steps, starting from its establishment and opening.