TURKEY IN A CHANGING MIDDLE EAST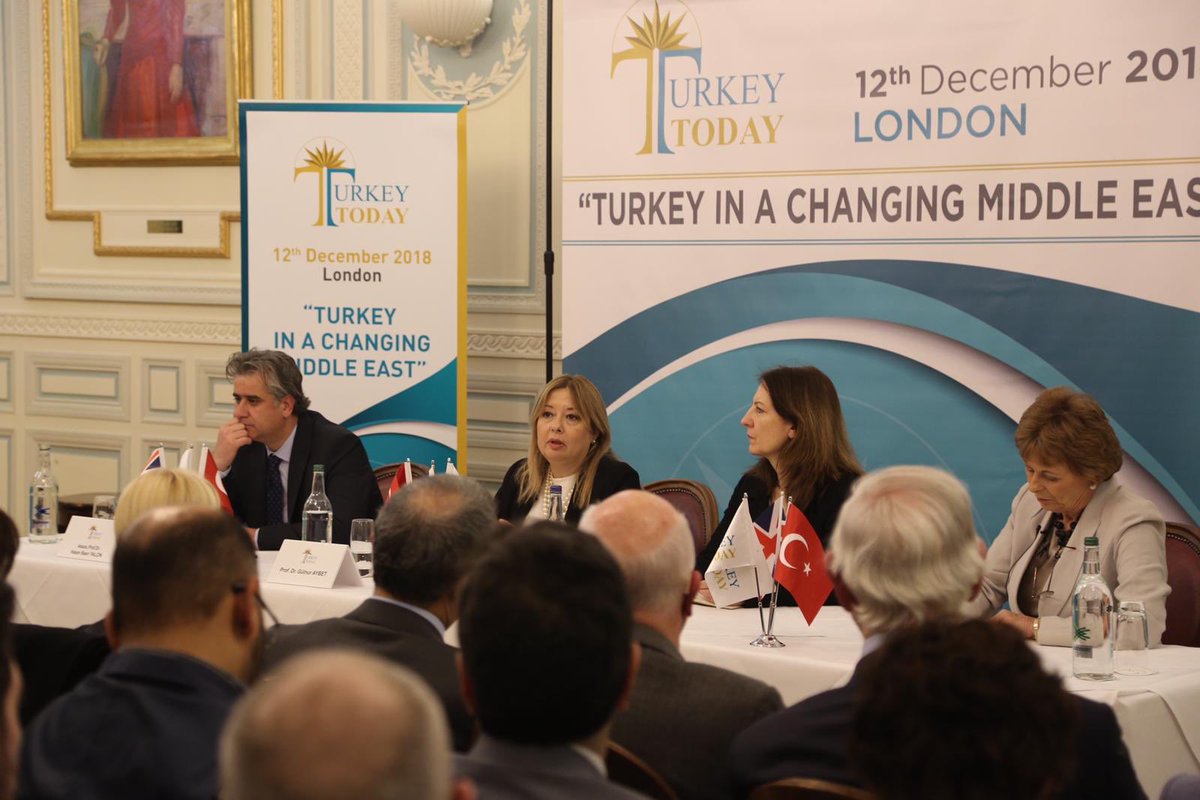 Arabisk London
Turkey's Directorate of Communications held a discussion panel under the theme 'Turkey in a changing Middle East' of in London's Naval and Military Club on the 12th of December. The panel featured British and Turkish experts and was directed by Lady Olga Maitland, the President of Defense and Security Forum.
The forum was 4th part of the discussion series named 'Turkey Today', the panel has started last September and every month it is located in a different country discussing different themes.
The first panel was held in September along with the UN Security Council meeting in New York. The second was in Berlin during the visit of Turkish President Recep Tayyip Erdogan. The third was titled 'The World is bigger than Five' in Buenos, Aires ahead of the G20 summit; It highlights Erdogan's statement that the UN security council should not be formed of only five members UK, USA, France, China, and Russia.
The main speaker was Dr. Gülnur Aybet the Senior Advisor to the President, Member of Security and Foreign Policy Council. She mentioned that Turkey's relations with Russia affect the country's relationship with the Middle East. She stated that despite recent events "we do not wish to tarnish our relationship with Saudi Arabia."
Dr Gülnur Aybet discusses Turkey's role in achieving peace in the middle east, but precisely being a main player in Syria's destiny she says "Turkey is the only NATO ally that is a guarantor for the Astana process. It is impossible to find a political solution to end the Syrian war and pave the way with stability and sustainable peace without Turkey."
The speakers also included Pro. Dr. Hasan Basri Yalcin, head of the department on Political Science and International Relations at Istanbul Commerce University. Another spokeswoman was Dr. Claire Spencer, Senior Consulting Fellow Middle East, and North Africa Program and Second Century Initiative at Chatham House.
Many prominent persons attended the event some of which are representatives from other UK based embassies, members of the Turkish embassy and many media figures. Among the guests was Ümit Yalçın, the newly appointed Turkish ambassador to the UK.
Overall the panel mainly discussed the relationships between Turkey and the Middle East, especially vital countries such as Syria, also how the current changes in the ME would affect the trade with the country. Furthermore, another point of discussion was Brexit's effect on Turkey and MENA.